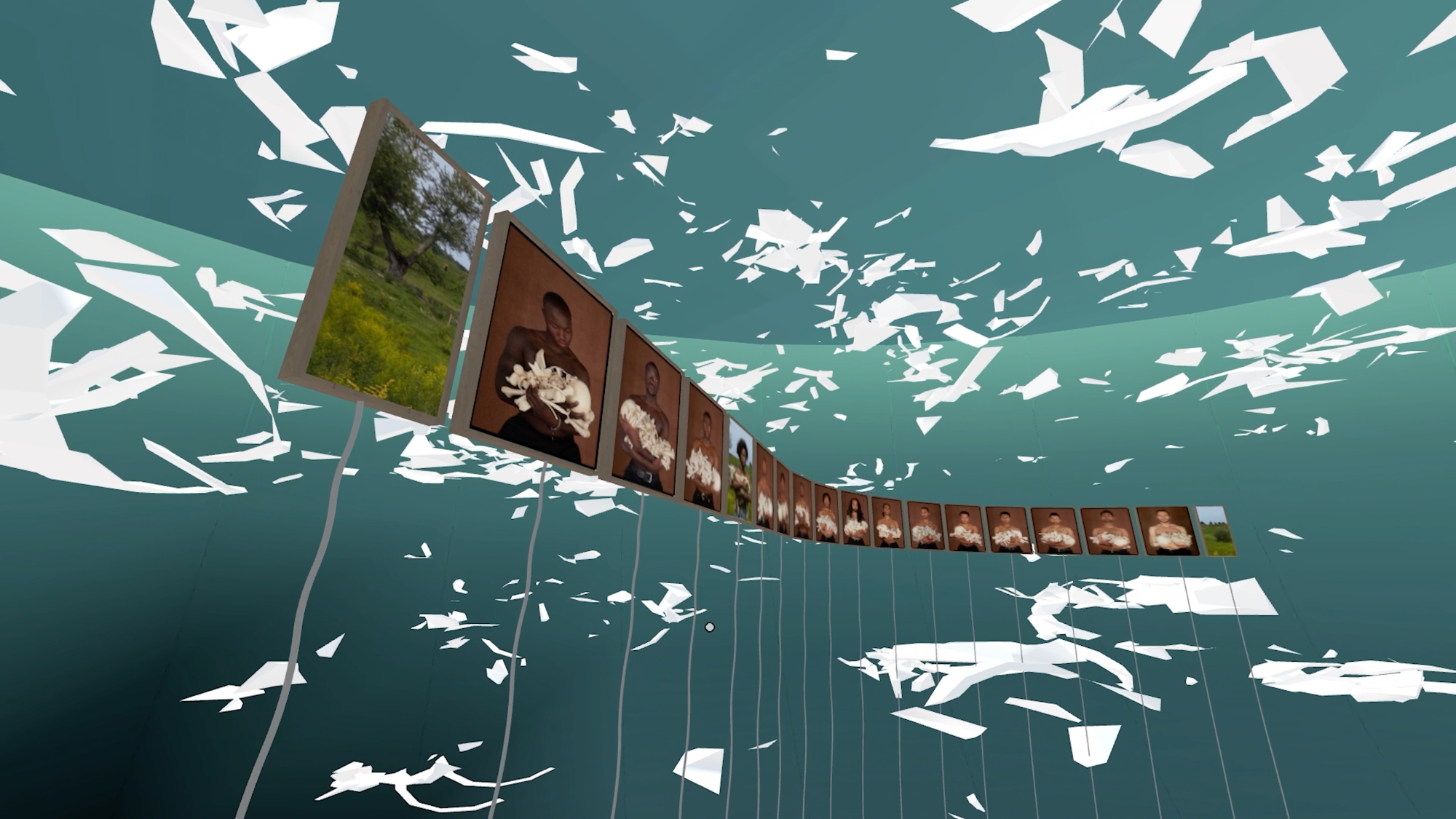 from refuge (SIREN) 2023 [screen grab] ©feldman-kiss & Matheuszik and refuge.earth 2023

Luther Konadu \ Consider the Censured (Fragments)
1.
Scapegoat: a word, with meaning that carries within it, the colossal weight of misfortune. It is an impossible weight that buckles and immobilizes the unfortunate carrier. Sedimented inside that misfortune is an engrossing defeat and helplessness. You become an island. You are on shaky ground. The weather above is grating and the surrounding waters threaten to consume the island you've been made to become. A corrosive light has exposed and cornered you. Now, you are without any defence. For each person who carries this unbearable weight, there is another out there relieved of that very weight. Or at least they live in the illusion of this same knowledge: a knowledge that obscures those seen as undoubtedly good or those deserving of punishment (often unmerited) and all its precipitous attachments.

2.
Pictured are young shirtless men, all wearing identically belt-buckled black pants, they all appear to be roughly within the same age range, each cradling a heap of what looks like human bones. Frontally and centrally positioned within each frame and lit evenly, they all stand against a luminous umber studio backdrop that leaves them cut off from any specific context, and as such, emphasizes our focus on their imaged presence. This non-place of the studio backdrop displaces the men away from a world that already displaces them as a problem; ineligible for compassion.
3.
Looking at the photo installation, within their silences, I'm moved to wonder for more biographical and historical detail. Who are these individuals? Are they still alive since this photoshoot? What degree of precarity holds their survival in place? What is their sense of safety? A search for narrative comes up because the images leave no closure. At the time of the photo shoot, they were survivors, they lived to tell a testimony.

4.
Viewing the imaged men from the intimate scale of my personal computer, they affect a kind of penetrating vulnerability that confronts my viewing gaze, for some of them at least. The men in the photographs flicker between seeming and being—at least this is what my perception permits.

5.
A question that has nudged me is the representation and presentation of victims through the surfaces of photographs, and what in effect, this does in the world: How to (re)present the victim, their experience and their stories without it being lost in sanctimony? Without dramatizing, embellishing, or proselytizing, or inadvertently eliciting from the viewer a pathologizing gaze masked as sympathy?

6.
Photography's uniquely direct, and lucid depictive quality narrows our focus on what is shown and in turn, forecloses other possibilities outside that frame. For this reason, that very characteristic of photographs also encourages a kind of forgetting, and with this line of thought the questions continue: How do images feed into the imagination of who we speak of when discussions of state violence are brought up? Why is this imagination prevalent? By generating and disseminating the same kinds of images, what bodies are inadvertently erased?

7.
It is said that the unseen sufferer suffering in silence suffers the most.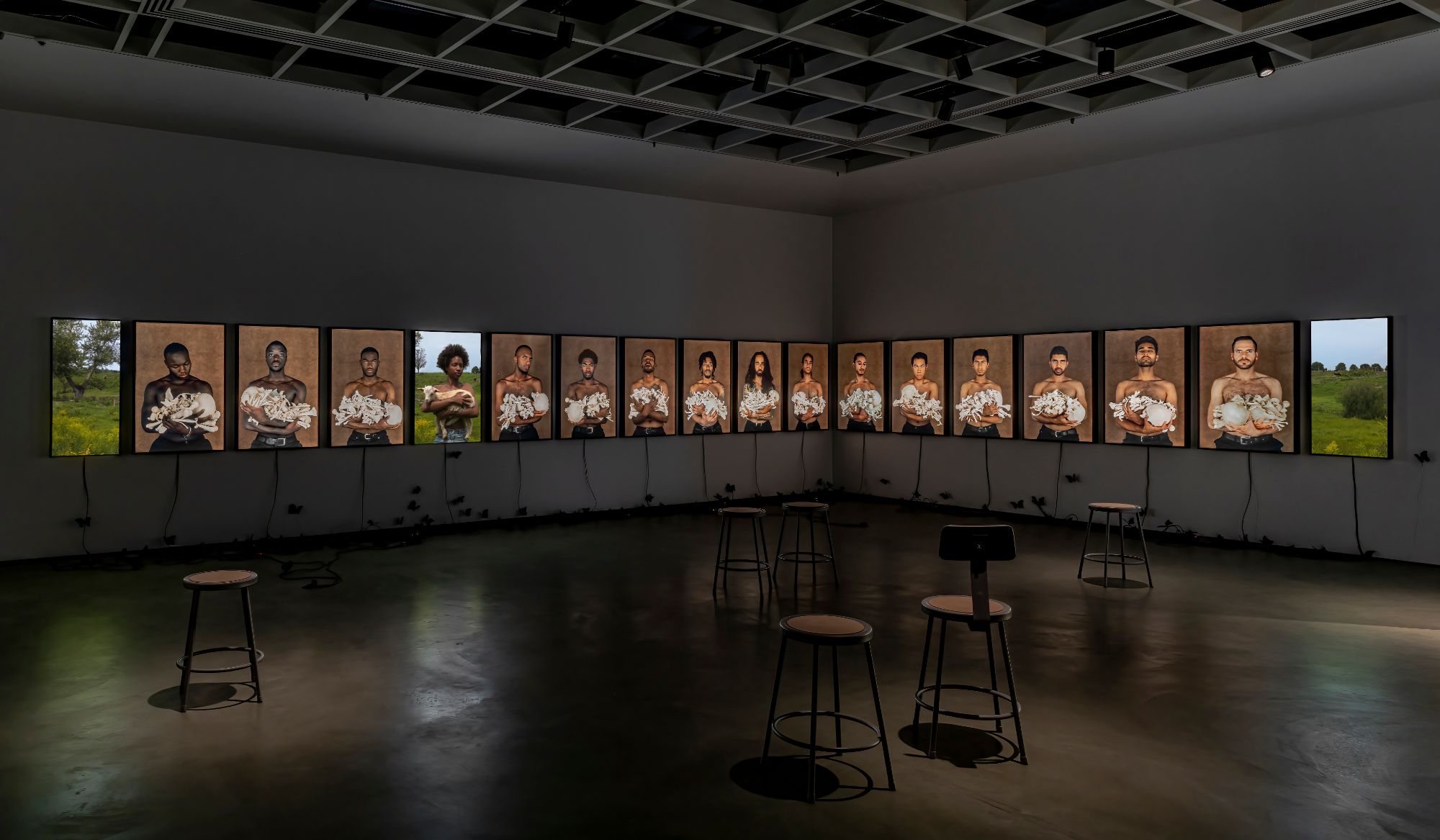 nichola feldman-kiss \ Scapegoat at McMaster Museum of Art 2022 (installation photography by Toni Hafkenscheid Toronto), from left to right – Brian, DaShawn, Devente, Sydné, Kais, Joshua, Suragha, Kevon, Ra, Tarik, Waseem, Huntha, Ali, Vidhu, Shawn, Fady

For a while, I was feeling dread returning to a series of photo-based typological group portraits I first saw only in part. I can't quite pin down where that dread came from or why it was there, but there it was, nonetheless. I lived with my great-grandmother until I was about eight years old when she passed. After she left us, I remember being unable to go into her bedroom where she was confined by the ailment that took her away. Walking in front of the closed door wasn't any easier. There was some unknowable force - psychological or otherwise - that halted me. If I had to pass by it, I would have to psych myself up before sprinting past it. It was as though the room held a power that could also consume me just by simply brushing by it. Whatever it was felt vivid. It is not quite the same, but this memory visited me as similar, albeit with a lower level of dread that saw me postponing my assignment at hand: the work of interpretation and response to that same collection of photographs. Even though they left me with a range of impressions, there was a palpable somber density that loomed amongst the artist nichola feldman-kiss's group portrait series titled, Scapegoat.
Over the centuries and into the present, the scapegoat has been shapeshifted by culture, of collective ideology, the production of pernicious ignorance, the fabric of shared systems of belief, irrevocable prejudicial harm. In the most extreme, it is genocide. Jews by Nazis; Muslims by Western hegemons; Africa and Africans by the centuries old dictates by racist power structures. A few years ago, naively seeking to be helpful, socially responsible, I endeavored to donate blood. Among other screening questions I was asked "Where are you from?" had I recently traveled to the African continent? To which I said yes - and became disqualified from service. Scapegoating around COVID-19 saw North American Asian communities targeted by hate crimes in retaliation for "the Chinese virus." Here at home in Canada, we market a reputation of multiculturalism, social equity and international benevolence to absolve ourselves of responsibility for the social ills that plagues us – engendered by our own conditions of Colonialism and institutional practices of domination and supremacy, i.e., "racism is an American issue." The political rhetoric of denial is but one strategy in the production of undeniability and truth. That which is already brushed under a beatific rug, becomes further neglected, less visible, more institutionalized racial caste systems, inequity, marginalization, impoverishment, injustice, gaps in social infrastructure, negative public health and over-policing.

Following a compounding conflation of personal and external events, in 2015, feldman-kiss began this Scapegoat project by posting an online casting call seeking local Torontonian men between 18 to 25 years of age who identified with the colour "brown." The artist realized the project with all of those who self-selected for the performance. The figures who are pictured in the artwork can effectively be associated with variable linkages to the Global South, a problematic catch-all term that reduces wide-ranging cultures and economic, social, and political conditions into a single category. A category the World Bank views as countries with the lowest economic growth, which includes the aforementioned regions. A history that is often overlooked within geopolitical discourses between the Global North and South is the enduring exploitative legacy brought on by colonial abuse, land appropriation, resource extraction, and post-war economic expansion that is in part a result of this very north/south disparity. Another consideration that continues to be understated is the stateless Indigenous populations that make up facets of the Global North and whose subjugation gets obscured on the world's stage by the dominion of the "upper-caste" settlers. This is a framework Indigenous political activist George Manuel conceptualized as the 'fourth world' in his eponymous book with journalist Michael Posluns. The term is a response to the 'third world', the previously common phrase used to reference the economic stratification of the Global South. One could, in many ways, consider Scapegoat within the conception of the Global South indexed within the Global North. The under-regarded regions of the Global North are where significant inequalities in life expectancy, standard of living, access to dependable healthcare, clean water, access to social programs, and other crucial resources are out of reach for lives rendered negligible: often, lower-caste communities that become the bearer of blame for societal ills. Or in feldman-kiss' project, the bearer of state-sacrificial antagonism. Although these antipathies are often thought of in abstract and systemic terms, there are real individuals who get caught in the middle. Their intricate lives are far more deeply personal than what the social sciences or statistics can account for.

Photographic images can at best be a resemblance and transference of the actual; it is never the actual. And, I don't fully believe the veracity of the performance documented in the Scapegoat series as necessarily limited by the orderly polished staginess. It does, however, create contention with the context for the photographs themselves and what the photographs serve to be doing as they live contextless in the public. Inside the subjects' appearances, I do sense an ambiance of what I read as an unknowable hauntedness, a signifying melancholic weight running underneath—as if layers of feeling are withheld, clenched…a deferred rage. Perhaps these are feelings that index the very real precarity of the survival of bodies that have to constantly shrink into obedience to a hostile state, and contort into their peripheral status in a Western frame. I at once find empathy in this headspace and I'm on their side, beyond the images themselves. But I also can't fully empathize because I'm outside of that position they are in, and I'm fortunate for this. This is part of where my dread takes hold.

In the span of months of viewing and thinking about feldman-kiss's Scapegoat images, I wrestle with my thoughts and struggle with the possibility of images to limit our thinking or merely ossify what we already know and in doing so, close off any thinking beyond itself. I come from a labour-class family; my dad was a tailor for most of his life and he came to Canada to expand what he could do. Aside from the several odd jobs—including a stint as a stage actress before she had me—when she emigrated to Canada and then back to Ghana, my mother helped her mother run what is called 'provision store' in Ghana which is a shop that sells everyday household essentials. I, on the other hand, find myself operating in the arts, a historically middle-class albeit marginal occupation riddled with never-ending precarity, predatory stakeholders, tastemakers, and art market cool kids.

Although the majority of its audiences (and target market i.e. collectors, patrons, etc.) rank in the mid-to-upper ruling class, it is an industry any sensible working-class family understandably frowns upon when their children decide to step inside it. But here I am nonetheless, thirty- something year old, freelancing, and affecting the posture of a professional art writer. At present, and throughout my life thus far, I have been fortunate to live in both the US and Canada as a racialized individual without directly being gravely afflicted with the poisonous depth of state-influenced injustices and unaccountability that lives like mine (as far as caste goes) continue to come up directly against. And, of course, this can at any point change for me. I live my life knowing this, and in the ambient knowledge that I can't completely relax into the comfort of my fortune. As such, my relationship to feldman-kiss's work and what it tends to assert is a conflicted one. It attempts to speak to lives that include mine, bodies that Isabel Wilkenson describes in Caste: The Origins of Our Discontents (2020), as the vulnerable and the marginalized "subordinate' or "lower" caste, often devalued by the state in explicit and less visible ways. But in doing so, the state obscures those who are worst off within this umbrella of representation which in turn, deepens their oppression. I think this incongruity is what makes the category of the scapegoat less rigidly defined. Our experiences inside most categories we get lumped in are complex and multifarious, hence the failure of any category's inherent mission.

I am also aware that we continue to live in a social regime, here in Canada and beyond, overrun by cis-gendered male dominance. And, by extension, a state that lays out social and legal codes indelibly inflected by the fathomless complexities of patriarchy. In this way, I find it rather difficult to view images of men positioned as hapless victims without a critical counter-argument. Again, I do not intend to understate the consequential gravity imparted on these bodies and the psyche of the scapegoat. I do, however, think about how these proliferated statistics and spectacles of violence marginalize the concerns of those whose generally accepted data sets cannot catch. "It is common in discussions surrounding anti-Black racism to focus on the Black male body as the state's primary target," Robin Maynard writes in Policing Black Lives (2017). "Most literature and research focus on the means young, black heterosexual males have been demonized by popular culture and criminal justice system", Maynard continues. "This has frequently allowed state violence against black individuals who are not young black men to go unseen and unchallenged." What Maynard describes here is fine-tuned towards Black lives and it can't, as an example, be necessarily adequate as an application for the gradient of complexions that are imaged in feldman-kiss's collection.

In addition to Black men, Black women are also often disproportionately policed, yet reports of systemic violence against them is marginalized. When it comes to getting assistance from the same police, they are neglected or receive their protestations as baseless, or provided little to no investigation, and follow-ups are rarely made. This fate aligns closely with that of Indigenous women in Canada. The embrace of carceral solutions, which by extension, is the wielding of coercive state power, fails to untangle the social realities that undergird most offenses caused by Indigenous women, low-caste women, low-income women, migrant women, and other gender minorities who are also disproportionately policed and over-represented in every phase of the criminal justice system. Commonly, these so-called offenses are committed out of survival, survival under a racist and sexist criminal and legal system. A system that, in its best interest, disregards the destructive reverberations of colonial forces in the present and the ongoing socio-economic deprivation including substandard levels of housing, education, health care, clean water, healthy food, sanitation, and increasing unemployment that commingle, and compound to drive especially Indigenous women of these lands to desperate circumstances in order to stay alive, protect themselves, and those in their care. And because of these variable oversights that are often broadly abstracted as systemic, or structural, the linkages between how these systems came to be and the lives caught in between continue to remain intangible and go unaccounted for.

In between thinking and taking notes for this essay, I'd relisten to the record When Smoke Rises by the Toronto poet, songwriter, and folk singer Mustafa which was released to widespread acclaim in 2021. I often don't listen to music with vocals while reading and writing, let alone music with lyrics I'm familiar with but I'd cling on it, sing along, get willfully side-tracked, and put off my task at hand for a bit longer. "The album is just under thirty minutes, after all", I'd justify to myself. "Stay Alive, Stay Alive, Stay Alive," in an angelic falsetto, Mustafa pleads earnestly as if on the brink of tears to an unnamed protagonist. It is a line from a track with the same name and one of his first formal releases as a musician. Mustafa, 25, grew up with his Sudanese family in Regent Park, Toronto's largest community of social housing projects for low-income families, migrants, refugees, and Indigenous peoples. It is a community that has long been treated with neglect by the state, which is a contributing factor to the violence, gentrification, and social ills it faced over the decades. Mustafa's music and poetry have always put his neighborhood and community into focus, trying to bring positivity into the desert of negativity. When he implores to stay alive, it's elegiac. Staying alive is the barest minimum for some as they navigate through the day and for others, it is just out of reach. When Mustafa utters those words, I can't help but feel the agonizing strain of loss in his life, and for those around him; for lives that continue to succumb to the hostile systemic barriers that come along with being from communities such as his. Some of these lives could very well be one of the subjects of feldman-kiss' Scapegoat photographs.

The title of Mustafa's album, When Smoke Rises, is the musician's memorial tribute to Smoke Dawg, a rapper and close friend to Mustafa who lost his life to gun violence in 2018 at the age of 21. Mustafa's mature and intertextual diction as a poet and through his music, specifically in his delivery, circumvents accepted blanket views of Black creativity—especially those from communities afflicted with constant pain and loss. Gun violence is a common cause of death in communities like Mustafa's and surmising from the context of feldman-kiss's subjects, a familiar source of misery. The fatalities caused by the circulation of firearms continue to be sidelined by federal legislators and public safety ministers. It remains a less than imperative issue, especially seeing as this country, Canada is geographically situated and is in close comparison to a country where gun violence is rampant and widely visible outside of state neglected communities. Because of this country's close proximity to the United States—a place where firearms are astonishingly easy to access—along with the nearly 9000-kilometers border they share (the largest undefended border in the world), illegal firearms continue to funnel upward rather effortlessly by cross-border trafficking through rail cars, shipping containers, drone, helicopters, or simply driving up through the border. Although there are laws that guide gun possession and continued background checks for those who own them, transference of ownership through straw purchases is very much perilously possible and a sure means of how guns can move from person to person until lives are lost.

The existence of guns themselves, in communities, especially in lower-income and under-resourced communities that causes street-level and gang-related violence like the one that took Smoke Dawg's life - might not necessarily be the singular root of the violence it imparts. Rather, it is because of a wider, more complex configuration of factors that establishes parameters around social and economic opportunities for communities like that of Mustafa's Regent Park neighbourhood. Gun-related fatalities, a common outcome of gang-associated activities, have been well-documented as a reflection of the social and economic inequalities that persist in marginalized communities across North America, although continually overlooked by government policymakers. Given the inherent stress and burden imposed on disadvantaged communities with meager material resources for tenable safety, adequate housing, accessible education that leads to viable employment, upward mobility, and economic survival, everything becomes a constant fight just to stay afloat. It is a fight for resources that are already scarce and a fight of whoever is the fittest, creating compromising behaviours that arise from high anxiety and desperation. Life in this way is a perpetual test of endurance - "Stay Alive, Stay Alive, Stay Alive…"

Winnipeg, 2022

Consider the Censured (Fragments) is adapted from a forthcoming essay in the journal Public Parking.

---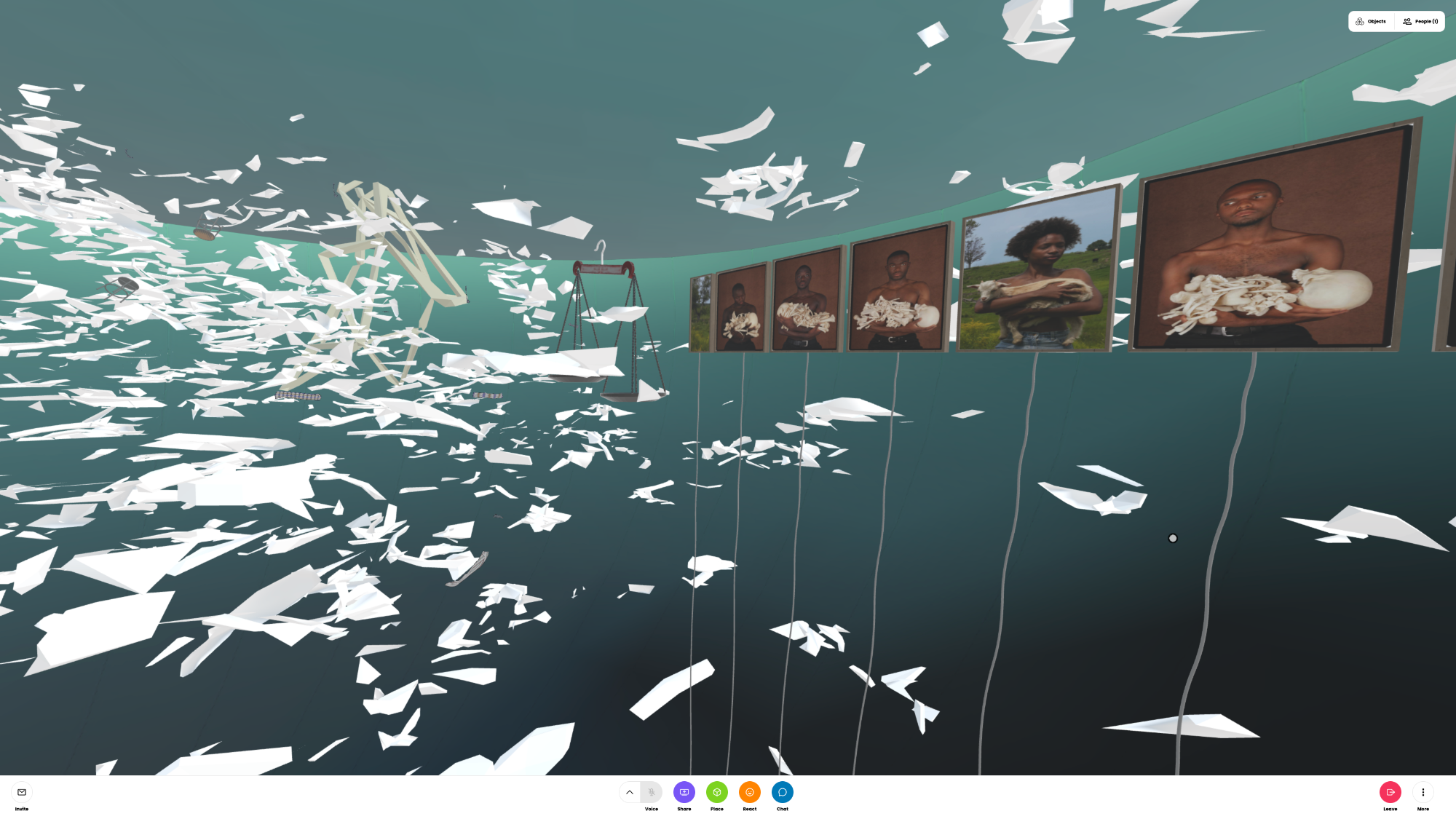 from refuge (SIREN) 2023 [screen grab] ©feldman-kiss & Matheuszik and refuge.earth 2023

Luther Konadu is an emerging visual artist, writer, and the editor for the contemporary online art publication, Public Parking which focuses on critical thought and tangential conversations. Based in Winnipeg, Konadu was born in Ontario to Ghanaian parents. He is a frequent contributor to Akimbo Blog, was a writer-in-residence at Gallery 44, and has written for Canadian Art. His studio practice primarily involves photographic portraiture but branches out to include sculptural and textual gestures. He recognizes the legacies associated to the medium of photography as an interpretive site for generating new conventions and expanding fixed narratives therein. He was the winner of a 2019 New Generation Photography Award, and has exhibited work at New York's Aperture Foundation. His work has also appeared in the New Yorker, on CNN.com, and in Border Crossings magazine.